August 2003
VISAKHAPATNAM THROUGH SEPIA-TINTED LENSES: REMINISCENCES OF AN OCTOGENARIAN.

THE EARLY YEARS

Visakhapatnam sounded like a magical place to me when I first heard my mother mention it. I might have been just 9 or 10 at that time and had lived only in Machilipatnam till then. My mother said that her father served here as a Deputy Collector around the year 1900. I never imagined I would visit this 'distant place' let alone make it my permanent home.
The first time I came close to Visakhapatnam was in December 1934, when I travelled with my elder sister from Madras to Russelkonda, via Berhampur. My father, also a Deputy Collector, had been transferred to Russelkonda and my sister from Queen Mary's College and I from Church of Scotland Mission School, Madras, were going home to spend our Christmas vacation. The Madras-Howrah Mail had a ˝ hour halt in Waltair Junction, which, in those days, was on the 'outskirts' of Visakhapatnam. The M.S.M. Railway (Madras & Southern Mahratta Railway) Engine's shrill whistle changed to the B.N.R. (Bengal Nagpur Railway) engine's 'boom' as Waltair was the terminus for the former and start for the latter. To my 14 year old years the change sounded ominous and I felt as if we were going towards Land's End. To add to my fears, the train started moving back in the direction as when we came in. Seeing my confusion someone explained that if we moved in the opposite direction, we would end up in the Bay of Bengal!
September 1935 saw me in Vizag, this time to spend the Michaelmas vacation of 3 weeks with my father who was undergoing treasury training here, before being posted as Treasury Deputy Collector. After getting down in Waltair Junction, we took the local train to cover the 2 ˝ or 3 miles to Visakhapatnam station, which was in Soldierpeta. I don't remember whether we got into a horse-drawn jutka or a bullock-drawn 'petti bandi' - a box like vehicle. Taxis were not heard of and bus service within the city was non-existent. There were buses only to take passengers to nearby towns. I have very faint recollections of how we spent those 3 weeks. We lived in one of the houses on the beach. In Machilipatnam we had to hire bullock carts to have a picnic on the beach, which was 5 or 6 miles from the town. We might have gone to the beach one or two evenings because it was just a matter of crossing the road. I do remember two outings. One was to the Valley Gardens on Dolphin's Nose. Our maternal uncle, who was also posted here, took us one morning across the channel in a boat. Just then a vessel was entering the harbour. Chicken-hearted as I was, I was afraid we'd be drowned. When we got to Dolphin's Nose, it was cool and shady undisturbed as it was then by contractors and engineers. One evening the Rev. Lazarus, brother of Dr. Hilda Lazarus, one of the eminent citizens of Visakhapatnam, invited us to tea. I remember going there by jutkas and enjoying a lovely evening on the sprawling grounds of 'Sunnyside'. Wherever you looked, there was greenery - lovely flowering plants of different varieties, crotons, ferns and creepers. The grounds were in different levels with a tennis court. Years later when I got to know Dr. Lazarus, she told me that her ancestors owned all the area from where the present Hotel Green Park is located till the other side of Hotel Daspalla Executive Court. Besides these two outings I don't remember much except going to see the movie "Luv-Kush" in a cinema hall, which was nothing like the modern theatres we have now and the movie was also in black & white and not at all clear.
---
THE WAR YEARS, INDEPENDENCE & THE ADVENT OF TECHNOLOGY
My last year at college (1940-41) was a turbulent year, politically. One morning, all the students gathered in our Assembly Hall to hear Miss Wroe, our History professor, explain the events that led to the British offensive against Hitler and the justification for their action. I can still remember her flushed, agitated face. I was not interested in the current events of those years and was oblivious of the historic events that were taking place in our country and all over the world. A day or two after Miss Wroe's lecture, another History lecturer, Mrs. Abraham, an Indian, spoke to a small group of students who had gathered in her room. She told them in hushed tones that many of our national leaders - Gandhiji, Nehru, Patel and others were arrested and imprisoned. Miss Wroe's lecture was from the British point of view; Mrs. Abraham's was the Indian version. We were still under British rule and those of us who were children of government officials had to be extra careful. Though our principal was an Australian, there were a few British lecturers too. They were not the type who would expose those with anti-British sentiments, but one couldn't take chances. Some highly emotional students cursed the British under their breath and a few others boldly and openly expressed anti-British feelings. I left college in the summer of 1941.
By the summer of 1942, the political situation had deteriorated. Even though no battles were fought in our land, we felt the effects of war. The fear was there that the seacoast towns and cities would be the target of bombs once Japan joined forces against the Allies. Visakhapatnam was bombed and this drove the citizens to neighbouring towns and villages. Businessmen, shopkeepers and other hastily gathered their stocks and left for Madras. My old school, Northwich, which was close to the sea, had to shift to Chinglepet as the buildings were requisitioned by the Government.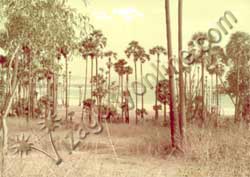 There were rumours that Jap ships had been sighted a few miles off the Machilipatnam coast. This created panic to such an extent that air- raid exercises were practised and people started digging crude shelters. Civil defence was formed in each town. Some anti-air raid precautions had to be taken and blackouts were one of them. Streetlights were switched off. People were told to cover their windowpanes to prevent the lights from being seen outside. The upper portion of the headlights had to be painted black. We could only imagine the trauma of those living in cities under constant bombardment. We had no television those days and only the rich owned radios. The daily newspaper was the only source of information.
Prices of essentials shot up due to scarcity. Supplies had to be sent to the armed forces and this created a shortage of essentials. Wheat and potatoes had become luxury items overnight. The price of textiles went up five or six times. A kind of coarse cloth called "Standard Cloth" was issued by quota on ration cards. I think that was the beginning of the issue of ration cards. If there was one good thing we learned during that time, it was to be economical. Paper, soap, kerosene and sugar were in short supply. We learnt to manage with whatever little we had. Thrifty ladies invented several recipes to make use of leftover food. The number of invitees to weddings was restricted. Some new departments like supply and ration departments came into existence to facilitate the equal distribution of essential commodities.
The war however had its brighter side. It offered a variety of jobs to enterprising and adventurous men in the various branches of the Armed Forces, medical, engineering, education as well as the Combat Forces. The salaries offered were attractive. Even women with minimum educational qualifications were absorbed into the WASI (Women's Auxiliary Corps India).
I could not attend the annual Convocation in August 1941, as my father took seriously ill. When I wanted to go to the next year, there were violent anti-British demonstrations, which resulted in obstruction to the normal running of trains. My brother, who never missed a chance to tease me, said, "When you want to take your degree, even the trains stop running!" The situation was under control by November and the Convocation was held in November instead of August. When I reached Madras at 8.30 p.m., the friends whom I expected were not there and I had no option left but to take a cab from Central Station to my college in Nungambakkam at 9 p.m. I mention this to show it was safe even then for a 22-year-old lady to go alone by cab at 9 p.m.
In 1944, when I joined St. Christopher's Training College, Madras was milling with troops both our own and foreign. As the transit camp was adjacent to our college compound with only a wire fence separating the two, we had some scary experiences during those nine months of our stay.
August 15 was a Red-Letter Day. There were celebrations after flag hoisting and illuminations in the evening. As there was no telephone in our school in Guntur, except probably in the Principal's bungalow, we could not hear Pandit Nehru's historic speech. Soon after Independence came the trauma of post-partition violence. Those in the border districts suffered untold misery. There were gruesome tales of people being thrown out of trains and patriarchs murdering their womenfolk to prevent them being raped and wholesale massacres of villages. It took a long time for the situation to return at least to a semblance of normalcy.
In September 1934, the house where we stayed in Machilipatnam had electricity. I still remember my grandaunt's look of awe and surprise when my sister turned the lights on. So Visakhapatnam must have certainly had electricity by 1934, if not much earlier, because it was comparatively a larger city. I never saw a telephone until I went to Madras and saw one in my Principal's office in July 1933. In 1930, my father went to Madras to meet his senior officer and when the telephone rang my father, under the impression that it was a hearing aid, raised his voice to help the officer hear better! The officer had to raise his hand to silence him.
Even up to 1935, there were no radios in most homes. Our Principal took us girls to a public radio in a park in Madras to hear the funeral service of King George V. A few years later, I stood in a stuffy godown, with sacks of rice all around, trying to listen to the Coronation ceremony of King George VI. The godown belonged to a rice merchant, I think. Even as late as the summer of 1953, I went with a friend to somebody's house in Madras to listen to the Coronation ceremony of Queen Elizabeth II. There was no radio in Lady Wellingdon Training College, where we were taking a course in home-craft.
---

VIZAG IN INDEPENDENT INDIA
1947 summer brought me to Vizag on another short visit. With my father, who had retired and with my brothers and sisters, I was on my way to Bhimli to spend a couple of days in the 'poor man's Ooty'. On our way we spent a couple of days with my married sister who was in Uplands Post Office with her husband who was the Post Master there. We went to visit her sister-in-law who was staying near the District Court. I remember standing on the verandah that was on the first floor, with my younger brother, an advocate then. Pointing to the District Court he said, "I hope some day to sit there as a judge". Sure enough he came here in 1974 as District and Sessions Judge.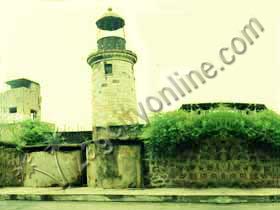 After visiting my sister's relatives in Maharanipeta, we went to Waltair Uplands by jutka. That jutka ride is one of the memories that stamped itself on my mind. The road, devoid of any traffic of any sort went between lovely trees on either side. There were no buildings anywhere till we came to Andhra University. Lovely old trees surrounded the university buildings in the sprawling campus. On the other side of the road, if I remember right, were thick cashew nut groves. Years later when my husband told me that when he was doing research in Physics in the mid-thirties, no jutkawallah was willing to take students from the station to the university for fear of robbers. No one ventured alone even during the daytime. This is all I remember of that short visit.
Less than 20 years later, in 1963, I came to Visakhapatnam bag and baggage with my husband Cdr. P.A. Moses who was posted to I.N.S. Circars as the Education Officer. We came with our two daughters and a son who were admitted into St. Joseph's Convent in Sept. 1963 after convincing the reluctant Sr. Francis Joseph that we'd see that they would pass the final exam. Mother softened after my diplomatic husband reminded her that they were classmates in the University! Visakha was by now a different place from the small town with one bakery, one cinema hall, one hotel and one shopping area - on the Main Road.
With the Japs bombing Visakhapatnam in 1942, the town shot into prominence thanks to the Second World War. The need for guarding this part of the coast from the enemy was recognized and the nucleus for the Eastern Naval Command was planted in the form of I.N.S. Circars. The Port and Shipyard were there. One by one, foreign business establishments like Caltex and Coromandel came up. With this started a growing need for accommodation for officers and staff. Construction of houses, but not yet multistoried apartments, kept contractors busy. Those who could afford started building more spacious, terraced houses to be let out to officers in the different establishments until they built their own Quarters.
We were given temporary accommodation in the New Entry Camp which was near the Port Quarters. Later we were allotted Port Quarters Bungalow near Harbour Gate close to the Port Police Station and Port Post Office. The bungalow, part tiled and part terraced was itself small, but the compound was large with an outhouse, chicken coup and lots of trees, mostly drumstick trees. Next door was the office of Gordon Woodroffe and adjoining that was the Port Hospital - a very modest building compared to today's imposing structure in the Port Grounds on the way to the Airport. The area between the present Port Administrative Buildings near Soldierpet and St. Joseph's Convent was vacant except for a few godowns. I.N.S. Circars was confined to the compound where the present canteen is. There was a small wardroom, a modest bungalow for the Commanding Officer - a Captain in those days - a very small hospital, a cinema hall close to it and a few barrack-like structures offering temporary accommodation. Amzari Park, Naval Park, Samudrika, Satavahana, I.N.H.S. Kalyani, NauSena Bagh and the submarine arm, all came later, over the last 3 decades.
The few schools in the town could not accommodate the growing number of school-going children of officers and staff of the various establishments. Caltex had its own private classes for children of American staff. The Navy laid the foundation for the Central School in the mid-sixties. My husband got busy interviewing and selecting graduate teachers for the school, which was inaugurated shortly thereafter. Timpany School moved into the newly built spacious building in CBM Compound near Aseelmetta. There were just a couple of buildings here other than the Missionaries' Bungalows when Timpany School moved in there. St. Aloysius and Fort Convent were also there. I don't remember hearing of any other schools.
The town had grown slightly, but not much. From Dondaparti junction to Aseelmetta I didn't see any buildings as far as I could remember. Towards the end of the sixties, I once made a visit to my aunt in Maharanipeta. By now there were Cycle Rickshaws and I hired one to go from there to my sister's house in Dondaparti. When I came as far as the Central Jail, I could see nothing beyond. There was no traffic of any sort, no houses, but only a few Palmyra palms where Aseelmetta Junction now is. I was scared and feared the rickshawallah was taking me to a deserted place and in panic I told him to turn back and go through Alipuram to Dondaparti. He protested saying we had come a long way and in a short while would reach Dondaparti. But I was adamant. The area on which the Municipal Corporation Building stands was a large tank - Cheruvu (

) and there was nothing beyond that. The large plot occupied now by the RTC Complex was a sandy ground and there were no buildings beyond that. This was in 1967. The same year we went on a picnic to Lawson's Bay, which had a lot of Casuarinas with a few Palmyra palms. 'Munjulu' were and still are a favourite of mine in summer. Towards the end of 1967 my husband got a transfer to Bombay.
After two years in Bombay we returned to Vizag with a view to settle down here. There was not much of a change. We rented a small house in New Colony as my husband retired and we were on the lookout for a small house or plot. Before we left in '67 we were advised to buy a plot somewhere. Someone took us to Seethammadhara area where foundations were being laid for different types of flats. But how could we stay that far away from the town? We didn't believe it when we were told that that area would soon be populated. We did not know in '67 that C.B.M. Compound was made into plots of 600 square yards each and the cost per square yard was 3 Rupees! After looking around, we bought one of them in front of Timpany School at Rs. 30 per square yard; or was it 18 Rupees? During our 2-year stay at Bombay, a few buildings had come up in C.B.M. Compound including the Maharashtra Mandal. It was rented out for wedding receptions. The only other place given for such purposes was 'Apsara', now remodeled and made into an imposing restaurant called Green Park. Even in '67, one Cdr. Almaida, with the support and encouragement of the then District Collector, started a school on the outskirts of the city, beyond the dairy farm and called it the 'Visakha Valley School'. When he retired, my husband was selected for the Principal's post, and he accepted it as the construction of our house was completed. He took over in January '71 and continued till April '77. By then, it became a full-fledged school offering C.B.S.E. syllabus and became one of the premier educational institutions of the city.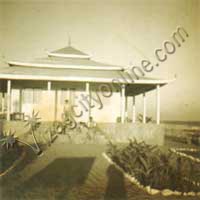 During the last 30 years the city has developed in every way. Several private schools and colleges have sprung up like mushrooms. The city has expanded in all directions. The traffic has increased tremendously. To cater to the increasing demand of mostly young people who frequent eating houses, several types of eating places, from corner cafés to 5 star hotels have come up during the last decade. Multi-storeyed apartments are seen everywhere dwarfing individual houses. King George Hospital has keen competition from big hospitals like CDR, Apollo, Seven Hills Hospital and Nursing Homes in every area.
Where Karachiwala was the only department store in the sixties, there are Nilgiris, Trinethra and a whole lot of Super Markets. In the thirties and forties, American Silk Store was the only prominent cloth store and in the sixties came Prabhakar Silk Stores and Kanakatala. With the advent of Bomanna and Chandana, the smaller shops on the main road are eclipsed. Several jewellery shops have come up now, where there were only a couple of them on the Main Road - Mangalagiri and Manchukonda. Though Poorna Market is still a big market selling fruit, vegetables and meat, a number of Rythu Bazaars are all over the city now. Theatres are found all over the city and still there is a mad scramble for tickets. T.V. has become a necessity as also the cell phone. Where there were just auto rickshaws 30 years ago, and petti bandis 70 years ago, you find cars of latest models, in all the many streets.
Everything has changed except for one thing - the scramble for water by women: at public taps with brass/clay 'Bindelu' in the old days and stainless steel bindelu at bore wells nowadays.
The once quite, peaceful Visakhapatnam has given way to a noisy, but maybe better-planned city with the Ramakrishna Beach and Kailasagiri as centres of attraction.
I forgot to mention Visakhapatnam Steel Plant for which some youth laid down their lives in '72. We had curfew imposed on the city for a few days. The sacrifice of these youth resulted in the city being chosen to have the Steel Plant established.
In the years to come there are bound to be many more changes.

© VizagCityOnline.com/Net Savant. No part of this article may be reproduced in any manner whatsoever without the permission of the publishers of this website.

We invite other long-time residents of Vizag to submit their recollections. Send your entries to contenteditor@vizagcityonline.com.
Back