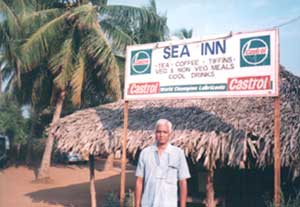 This place's name (and its popular nom de plume) are not particularly imaginative but its setting--not far from the sea shore in the shadow of the Rushikonda hill--certainly is. Started in 1988 by Mr. Venkatapathy Raju, originally from Guntur, this restaurant is as low-key as its soft-spoken owner.
Even though an element of reverse-snobbery is probably responsible for its growing popularity, Sea Inn is not without its intrinsic charms, chief among these being the fact that it does not pretend to be anything more than what it is--a large hut in which a limited variety of local dishes, tastily but un-fussily prepared and served in an extremely modest setting to a clientele ranging from (on the day we went) retired naval officers and a local MLA to a Punjabi NRI (whose enjoyment of the food did not appear to be affected by the fact that it was unlikely that she had ever been served this kind of food in a regular dhaba) and a large well-to-do family from Calcutta.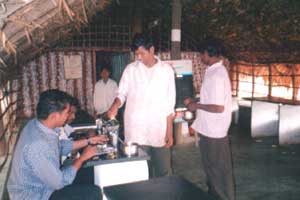 Sea Inn is open for breakfast, lunch, and dinner ("not after 9 p.m." Mr. Raju emphasises). We went for lunch and this not being the kind of place given to frivolities like appetizers launched directly into the main course. A basic vegetable thali (Rs. 25) of sorts (rice, a couple of vegetable dishes--tasty and not too spicy, pickle, curds, papads, and a dal dish) can be built upon with a small variety of seafood, mutton, and chicken dishes. We tried the fish curry (Rs. 40), the fish fry (Rs. 45) , and the prawn fry (Rs. 45). The fish curry and fry tasted somewhat similar but were both quite appetizing. Our personal favorite was the prawn fry. All of these were spicy without being unnecessarily hot. Unlimited servings of the basic thali items are offered. Bottled water and chilled soft drinks are also available. We ordered tea at the end of our meal and this was the only item with which we were not favorably impressed. Mr. Raju also offers chicken (Rs. 50) and mutton (Rs. 60) biryani. Other items can be special-ordered, preferrably in advance of one's arrival.
The service is fast, efficient, and unobtrusive (our "waitress" was less than 4 feet tall!). The ambience can be imagined from the opening paragraph of this review and the only music is that provided by nature--the roar of the surf and the cawing of the odd crow.
We hesitate to offer any recommendations. Mr. Raju's only concessions to gentility are the offer of paper napkins to those too prissy to wash their hands around the corner and a telephone number for the restaurant. Any more and the place would lose its character-the owner obviously believes this and we agree with him.